Here's a step-by-step guide that'll take you from "I can't even draw a stick figure" to "I'm a Neurodoodle master" in no time.
Step 1: Get your Grid on
First things first, let's get our drawing game on point. We'll use the X-grid method of drawing to give our students the structure they need without being too uptight. It's like Goldilocks and the Three Bears, but instead of porridge, we're talking about lines on paper. Not too hot, not too cold, just right! Plus, it's a great way to map out the location and compare relationships without having too many lines on the paper. Trust me, it works like a charm.

And here's the best part – I've created a FREE X-Grid line drawing worksheet that will help you take your drawing skills to the next level. Yes, you heard that right, it's absolutely free! All you have to do is sign up for my email list, and voila! You'll get instant access to this incredible tool. (CLICK HERE to sign up for my email list).
Step 2: Practice Makes Perfect
For this neurographic art easy doodle drawing project, the reference image used is a picture of a chameleon and I'm just smoothening out the edges using a felt-tip marker.

Now that we've got our grid in place, let's practice our Neurodoodle designs. Grab the worksheet I've linked below or use any sheet of paper you've got lying around. We're going to be creating rounded edges and corners, so get used to smoothing out those V shapes into U shapes. And don't worry, we'll be going over the printed reference image, so you can see how it's done. 
Step 3: The Final Countdown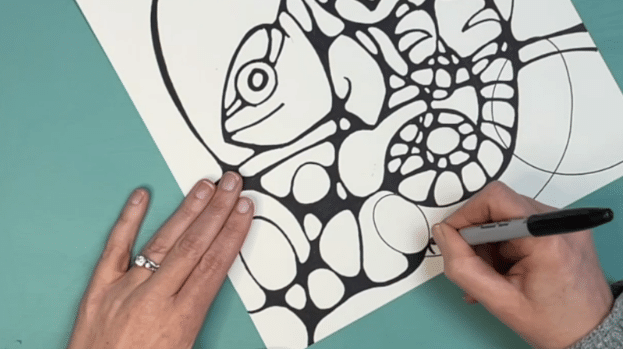 Okay, folks, it's time to take off the training wheels and get to the final drawing. You can add those Neurodoodle lines right on top of your smoothed-out drawing. It may look intimidating at first, but trust the process and embrace the flow! You've got this. You'll be amazed at how quickly your design comes together.

Bonus Tip: When you're smoothing out those lines, follow them throughout your design instead of bouncing around like a hyperactive bunny (to really get in the zone and achieve maximum Zen). You'll feel a sense of satisfaction that's hard to beat when you see one corner come together and look related to the rest of the design.
Step 4: Color it up
Now for the exciting part – COLOR! Choose your favorite hues and let your creativity run wild. It's like adding sprinkles to your ice cream, or whipped cream to your hot cocoa. You get the idea. This is where your masterpiece will really come to life, so don't hold back.
Step 5: Sit Back and Admire your Neurographic Art!
Voila! You've done it. You've created a stunning Neurodoodle design that's a feast for the eyes. Take a step back, admire your work, and pat yourself on the back. You're officially a master doodler. A true artist.
So, whether you're a teacher looking for an engaging art project, or just a curious artist wanting to learn something new, this lesson has got it all. And remember, practice makes perfect. So, grab your materials and get to work. The world needs more Neurodoodle designs, and you're just the person to create them.
Want to Save Time or Need Ready-to-Go Reference Images and Practice Drawing Worksheets?
Looking no further.  This super fun Neurographic Art Easy Doodle Drawing (summer theme) contains 11 drawing reference images and practice neuro-doodle drawing worksheets, 3 x grid drawing worksheets, a 52-page slideshow, and 4 video demonstrations.
Want more themed reference images and worksheets that speak to your student's interests?
This lesson is also included in the Neuro Doodle Drawing Mega Bundle. The bundle includes more than 71 worksheets and 55 reference images with themes such as sports, spring, summer, and animals that are sure to interest and inspire your middle or high school art students and speak to whatever interests they have.